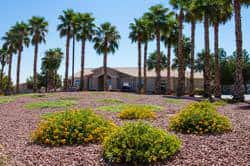 This quarter, we take the opportunity to tell the story of our Whispering Palms Apartments, a senior rental housing community of 208 units on 15 acres.
Opened in 2001, Whispering Palms features single-story apartments, 104 one-bedroom units and 104 two-bedroom units, and a large community recreational clubhouse. The club- house has full-kitchen facilities, outdoor pool/ spa, health room, exercise room, media room, game room with planned activities and outings offered.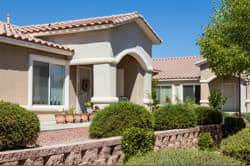 Health screenings and food distribution are coordinated by the resident manager working with our non-profit partner, Silver State Housing, to bring numerous supportive services to our residents.
Whispering Palms is located at 2655 West Lake Mead Boulevard, in North Las Vegas. Just east of the major intersection of Lake Mead and Rancho Drive, the community enjoys access to retail, including a Walmart center, banking, health care, as well as two well-known local hotel/casinos, Texas Station and the Fiesta Rancho for entertainment and employment opportunities.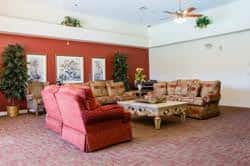 Designed by John Burke Architects, the- se units resemble small homes, and the property exhibits water-conserving desert landscaping.

Whispering Palms was financed with tax exempt bonds, allocated through Nevada Housing Division. Construction began in 2000 and the property was placed in service in February 2001.
The property has enjoyed steady occupancy, all within a gated community that has become a fixture to the area.